Non-Slip Outdoor Tiles, 9 things you should know
When most people think about outdoor tiles, they think about the traditional square or rectangular tiles that are often used to create a patio or pathway. However, there is now a range of different outdoor tiles available, including non-slip outdoor tiles.
Nonslip outdoor tiles are perfect for areas where you want to walk safely, such as near a pond or in a garden with many inclines and slopes. They are made from a material that provides extra grip, perfect for wet or icy conditions.
Nonslip outdoor tiles are also a great choice for people who have difficulty walking, as they provide extra stability and safety. They are available in a range of different colors and styles.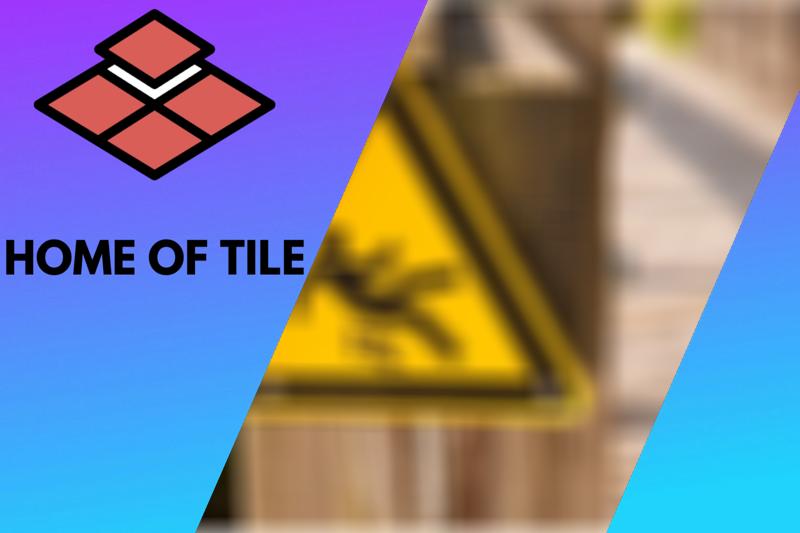 What Outdoor Tile Is Not Slippery?
Many types of outdoor tiles are generally not very slippery. Porcelain, ceramic, natural stone, and some vinyl tiles are all good options. They are generally less slippery because of their textured surface. Another option is rubber tiles. They are soft and flexible, making them non-slip.
Non-Slip Outdoor Tiles: Tile Types
When you're looking to tile your garden with tiles that have good non-slip characteristics, you have many options to choose from. You'll want to consider a few factors when selecting your tiles, such as durability, weather resistance, and slip resistance.
Slip resistance: One of the most important factors to consider when choosing outdoor tiles is slip resistance. If you have a lot of guests over or if you have children, you'll want to make sure that the tiles you choose are non-slip. A few different types of outdoor tiles offer slip resistance, such as rubber tiles and safety tiles.
Weather resistance: Another important factor to consider is the weather resistance of your tiles. If you live in a climate that's prone to rainfall or if you have a lot of snow, you'll want to make sure that your tiles are weather resistant. Weather-resistant tiles will be able to withstand the elements and will last longer.
Durability of tiles: Finally, you'll want to consider the durability of your tiles. If you're looking for a tile that will last for years, you'll want to choose a durable tile. There are a few different types of durable tiles, such as porcelain tiles and concrete tiles.
When choosing outdoor tiles, it's important to consider the different factors that make each tile unique. By considering the different factors, you'll be able to choose the best tiles for your garden.
Non-Slip Outdoor Tiles: Design Ideas
When it comes to designing or redesigning your garden, you can do a million different things to make it your own. There are endless possibilities, from the types of plants you choose to grow to the colors and textures you use in your landscaping to the accessories you add. One detail you may not have considered, but that can enhance your garden is the use of outdoor tiles.
Outdoor tiles come in many colors, shapes, and sizes, so you can find the perfect ones to fit your space. They're also made from different materials, so you can find the perfect ones to match your décor and climate. If you're looking for a non-slip surface for your garden, tile is a great option. It's durable and weather-resistant, and it can add a touch of elegance to your space.
There are a few things to keep in mind when choosing outdoor tiles.
Tile for outdoor usage: Be sure to choose tiles that are rated for outdoor use.
Climate: Choose tiles that are compatible with your climate. If you live in a cold climate, you'll need tiles that are resistant to frost and ice. If you live in a hot climate, you'll need tiles resistant to heat and sun.
Once you've chosen the right tiles for your space, it's time to start planning your design. One option is to create a simple geometric pattern with different colors and shapes. Another option is to create a mosaic pattern with different colors and textures. You can also use different shapes and sizes to create a more eclectic look.
No matter what design you choose, add a few accessories to bring your garden to life. Add a bench or a couple of chairs to relax and enjoy your space. Add a few pots of flowers or plants to bring color and life to your garden. Add a fountain or a birdbath to make your garden extra inviting.
With outdoor tiles, the possibilities are endless. So get creative and have fun with your design!
Non-Slip Outdoor Tiles: Cleaning
Nonslip outdoor tiles are a popular choice for many homeowners because they offer a practical and attractive option for outdoor flooring. However, as with any tile, it is important to clean and maintain them regularly to look their best and perform at their best. Here are a few tips for cleaning outdoor tiles:
Sweeping: Sweep the tiles regularly to remove any dirt or debris.
Dishwashing liquid: For a deep clean, mix some warm water with a little dishwashing liquid (one cup of water to 2 drops of dishwashing liquid) and use a brush to clean the tiles. Rinse thoroughly with clean water.
Non-abrasive cleaner: If any stains or marks occur, use a non-abrasive cleaner and a soft cloth to wipe them away. You can find suitable non-abrasive bathroom or tile cleaners in any supermarket or drugstore.
Frost: Protect your tiles from frost in winter as best as possible by clearing any snow and ice from them regularly.
You can keep your outdoor tiles looking great and performing well for many years by following these simple tips.
Is Outdoor Tile Slippery?
Tile is a popular flooring choice for indoor and outdoor spaces because it is durable and easy to clean. However, some people are concerned about using tile outdoors because it may be slippery in wet weather.
While it is true that tile can be slippery when wet, there are several things that you can do to reduce the risk of slipping. One of the most important things is to use a less slippery tile type.
Using an anti-slip coating can also be a great help to make tiles less slippery. Many products can significantly increase traction, are easy to apply, and are invisible. Mainly for outdoor usage, you need to use such a product regularly. For a more permanent anti-slip solution, you can use a sealer to treat slippery pool decks.
In addition, you can use non-slip adhesive strips or rug runners in high-traffic areas to help prevent slips and falls. If you experience a spill on your tile floor, be sure to clean it up as quickly as possible to avoid any dangerous falls or slips.
I also recommend keeping outdoor tile clean. Particularly when near trees, a thin layer of dirt can form, making the tiles slippery. Use a brush or pressure washer to clean the tiles regularly.
Overall, using tile outdoors can be a safe and practical option, as long as you take the necessary precautions to reduce the risk of slipping.
How Do You Stop Outdoor Tiles From Being Slippery?
There are a few ways to stop outdoor tiles from being slippery:
● Anti-Slip Coating
One way is to use an anti-slip coating. This is a liquid that you can apply to the tiles, making them less slippery. Put in a spray bottle and spray liberally. Rinse with water after 10 minutes, and the surface is usable. The downside is that depending on the location, you need to repeat this regularly, particularly for outdoor usage.
● Anti-Slip Sealer
You can use a special anti-slip sealer for a more permanent anti-slip solution. Such a sealer can be used indoors and outdoors for concrete and other stone surfaces. It often has a clear, semi-gloss finish that is reasonably chemical resistant, UV resistant, and durable.
These sealers are often used to treat slippery pool decks. For improved durability, add several layers. But give each layer enough time to dry.
● Grit Additive
Another way is to use a grit additive. This is a powder that you can sprinkle liberally on the tiles which will then make them less slippery. The grit additive can be mixed with sealer or paint (full jar of grit additive to five-gallon pail of sealer or paint).
● Clean the Tiles
One reason tiles get slippery is a small layer of dirt, oil, or algae that forms on them. Particularly when tiles are near trees or bigger plants. This is why cleaning your tiles regularly makes them less slippery. Use a brush or pressure washer to clean the tiles regularly.
● Use Slip-resistance Tile
If you still have to choose what tiles you will use, you can use a slip-resistant tile. This tile has a surface that makes it less likely to slip.